Player Ratings
Buffon – N/A
Bonucci – It was his forward pass that led to the defensive disaster allowing Pjanic to open the scoring, other than which big Leo was in imperious, untroubled form. 7
Chiellini – Great to see him almost back to his best, for besides a slip late on, which went unpunished, he ran no risks and drove forward when nothing seemed open ahead of him. 7
Barzagli – Quiet as a mouse but made one vital clearance with one of the few useful balls played into our box. 7
Alves – Definitely growing on me as he grows into the team. Supported the attack with clever passing and impressive control and forced the fourth with his deflected free kick late on. 7
Evra – Seemed a little rusty, but showed good stamina and played a solid part in the victory. 7
Hernanes – Went about his work with tidiness and discipline, maintaining keen positional focus and came close with a long range effort. I like the balance he brings to the side, and in absence of Marchisio, he is fast becoming the most obvious option at DM. Safe, intelligent and calm. 7
Pjanic – Was alive to the chance which fell his way for the opening goal, produced a gorgeous assist for Higuain and his distribution throughout was top drawer. A shame he went off injured and I hope he returns to the ranks soon. 7
Khedira – Off the pace and culpable of wasting several promising opportunities in the final third through poor control. Largely ineffective. 5.5.
Dybala – He works so damn hard and I was overjoyed to see him break his duck in sublime fashion. Picking up the ball 35 yards out from goal, he found the channel, and unleashed a superb finish. Also had a chance late on but couldn't get enough power on his shot. 7
Higuain – Took his goal splendidly, other than which was crowded out by an extremely defensive opponent. Five games, five goals. A promising start to his career in black and white. 7
Cuadrado – Brought on to play in a CML position, where he fared well enough against a beaten side. Seemed more lively when moved to the right. Average. 6
Pjaca – Was close to scoring when showing superb acceleration to find the angle for a shot. He looks dangerous every time he plays. 6.5
Mandzukic – Fumbled one chance then simply made up the numbers. 6.
Reasons to be cheerful
A 0-4 away victory in the champions league is a fine result, regardless of the very average nature of our opponents. I cannot suggest that we played anywhere near our potential, but we were improved defensively and the major difference between the Palermo game was that we took our chances.
Another clean sheet, our third on the trot, the defence and midfield are becoming more balanced, with just the one chance conceded from the header against the bar. Other than which, we rarely moved out of second gear.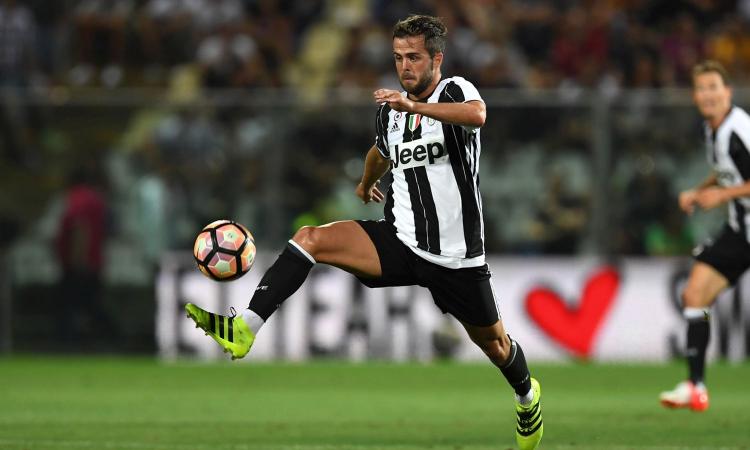 Higuain, Alves and Pjanic, are all swiftly finding their feet in our colours. It is early days and we have far more to come, but despite the lethargic performances sandwiched in between the more confident showings, we have played 6, scored 13 and conceded 4. Which has found us leading Serie A and top of our group in the champions league. If this is how we fare, in terms of results, when we are out of form, still trying to find our feet, the future looks very bright indeed.
The Empoli and Udinese fixtures give us a a great opportunity to build upon this result, and gain some momentum for the crunch tie against Lyon, which if won, seems likely to put us in a strong position to qualify for the second round.
Whilst we were superior in all departments, and ran close to zero risks, I must repeat my happiness at seeing Hernanes in the side. He uses his experience intelligently, and offers far more maturity and adeptness in the integral DM position than any other we have played there thus far this term. However, he is yet to play against anyone decent, but so far, so good.
Reasons to be bothered
The one chance we conceded came yet again from a set piece. I believe that 3 of the 4 goals conceded this season have come from corners. We are improving at the back and in the middle, but we must improve our concentration and marking. I believe that the BBC have taken a while to regain their sharpness after their extended outing through the Summer in France. Now we are returning to resoluteness at the back, and this improvement must continue, for we will face far tougher tests in the future.
Khedira was listless yet again. We could afford to carry him in this tie, yet perhaps it is for the best to give him a break and offer Lemina the chance to impress in a role where he seems more comfortable than anywhere else. Sami had a busy summer and has been involved in all but one of our games this season.
As Higuain noted after the game…
"At times I ask him to play closer to me, though it all depends on the circumstances of the game," Higuain told Mediaset Premium.

"I prefer him closer, but in the end it's his choice. I am in a good moment of form, but we're still at the beginning, settling in with new teammates and system.

"I will improve game after game and winning helps you to win. We are not yet at the top of our capabilities, but we are getting the results in the meantime.

"I am happy to be here and felt at ease from the first moment I arrived. Now we are trying to work out the best movements, but with time it will improve.

"We wanted to play with the right attitude this evening and we did that."
Dybala has appeared to be playing deeper this season, as aforementioned in previous comments, his movement is very much combined between a RM and AM, rather than a second striker. I can but assume this is intentional, which also translates to less goals, and perhaps once (or if!) we can strike a better balance in midfield, we can move Paulo higher up the field, where we know from last season, he can prove more potent.
Overall, we have to be content with the performance and especially the result. We did all that was needed and sharpness if not yet cohesion is blossoming throughout the squad. Zagreb were playing 8 behind the ball for much of the first half, and we showed patience and our quality shone through. No new injuries, more gold in the coffers for the victory, comfortable standings domestically and in Europe, and we are still to recover Il Principino, Sturaro, Mandragora and give Pjaca the chance to impress with more than 20 minutes remaining on the clock.
A job well done. I doff my virtual panama to Allegri and the lads.
Post-Match comments from the boss:
"Dybala got his first goal of the season, I am happy for him and for the team. It was important to get our first Champions League win of the season," the Coach told Mediaset Premium.

"The side took the right approach. We made some mistakes in the second half, when we could've played better, and still need to improve. We need to play cleaner.

"We are working, we've only been together for 40 days and there are players who arrived after the Euros. It takes time to get the players into a unit and we've had a fairly decent start, all told."

"When we moved to four at the back to rest Andrea Barzagli, we played with two more attacking wingers. It was also an experiment for the future to see how it worked.

"Cuadrado played at Palermo and tonight, but before that he hadn't played a game for four months."
Forza Juve.