It didn't take long to ease past the concerns which come naturally after the Winter break. Had Higuain overdone the christmas pudding? Was Sturaro still wearing his Santa hat? Had Allegri refused to allow the festive spirit to calm his wrath born in Doha? The answers to all these questions were swiftly found as we cantered our way to a comprehensive 3-0 victory over a fair Bologna side.
Player Ratings
Neto – A rare outing for the Brazilian who barely warmed his gloves, such was the dominance of his outfield colleagues. 6
Chiellini – Resolute, muscled his way to winning every challenge and covered the rearguard with aplomb. 7
Barzagli – Wonderful to see the old timer return to the ranks and he appeared far from rusty. Indomitable and dealt with the lively Di Francesco when called upon. 7
Lichtsteiner – His physical conditioning has made great strides and this was a return to the Swiss Locomotive we have all known and enjoyed for many moons. Stephan was up and down the flank like a dynamo, conjured a goal with a perfect cross and caused the opponents steady bother. Despite the fact that most of the offensive thrust of our opponents came through Di Francesco on his side of the field, it was our right armoury which provided our most obvious threat going forward. A welcome return to form. 7
Asamoah – Finally a solid performance from the returning Ghanaian, who has seemed understandably out of sorts in his bit-part action thus far this term. Reprising the role of LB, the African was dependable at the back and industrious going forward. Credit to the player for forsaking the ACON to further work on his fitness and focus on Juve. 7
Marchisio – Rather subdued at times, but worked damn hard and kept the ball moving swiftly. Was in the right place at the right time to make countless interceptions. We must take on board not just the lengthy lay-off but the injury itself, which can take players many months to recover from fully, that is, if they are even able to return to previous heights. The early signs of Marchisio's return continue to prove very promising. We are always a better side with his technique, intelligence and experience on the field. 6.5
Khedira – Seemed more spritely than the jaded offerings witnessed towards the end of last year. The big German was tidy on the ball, set up several good chances for team-mates and was deep to cover when required. One of the smartest and most experienced midfielders in the game operating anywhere near the top level. 7
Sturaro – I am quickly coming to once again enjoy his hustle and bustle, and remain jolly to find the youngster gaining sharpness and stamina. Another who missed pre-season and many more weeks of the Serie A calendar before re-entering the fray. He won the penalty, could have done better with a chance in the box, other than which covered so much ground and never gave the opponents chance to breathe. All that is missing is a few goals, which will come. 6.5
Pjanic – Miralem did nothing wrong, and played his part in the victory with yet another assist – a beautiful chipped through ball for Higuain to power home inside the box – yet such was his absence from large parts of the game I had actually forgotten to include him in the ratings until now, when nearing the end of this calm, measured report deep down below. He was so much more integral and vibrant in everything offensive at Roma and I hope that we can conjure the same from the Bosnian in our colours. Despite his impressive stats, up until now, he has not quite fit our system and tends to drift out of the action for such lengthy periods that I forget he is even playing. 6.5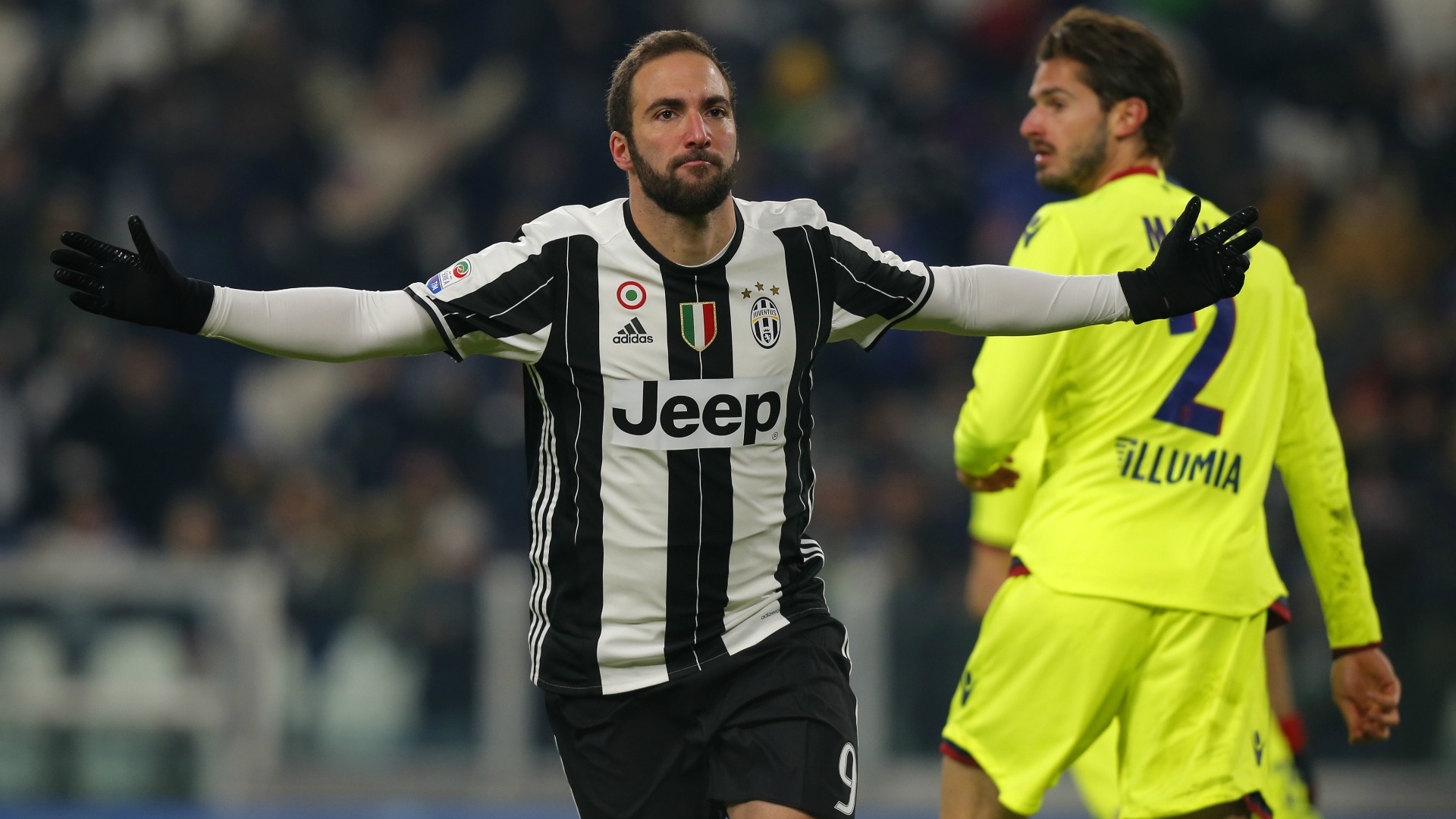 Higuain – Took his two goals superbly and looked bright and fierce. Much happier in a more central role yet he does roam powerfully and purposefully across the line and far more effective when not tasked with dropping deep as is the case when Mandzukic partners him up top. 8
Dybala – I am glad he plundered the penalty with guile, besides which he was clearly lacking sharpness. His shooting was wild, as confirmed by ending a beautiful fast flowing move by blasting horridly high and wide in the box. His movement is fine, but the sooner he regains his rhythm the better for all concerned. 6
This was a comfortable victory against a side which played well, made serious attempts to test us, but fell short on quality in key areas of the field. The result was never in question, it was more a matter of how many would we score and could we keep a clean sheet.
Perfect return for Barzagli, whose experience will be key as we approach the business end of the season. The back four were rock solid, offering very few, if any clear cut chances from anywhere near our goal. Both fullbacks were impressive; Lichsteiner back to somewhere near his swashbuckling finest and Asamoah able to show he still has much to offer, albeit against weak opponents. The decision to allow Evra to depart may well suggest that Allegri is content with other options to back up Sandro and he will have been pleased with the performance of the Ghanaian, who at 28 years of age could still provide superb squad depth if he can maintain his fitness.
The midfield triumvirate of Khedira – Marchisio – Sturaro is by far the strongest we have deployed this troublesome season with Rincon slotting in for a late but encouraging cameo. Only Pjanic continues to perplex and leave me feeling he is capable of so much more. Whilst his output in terms of goals and assists and set piece deliveries is splendid, he has yet to find himself truly in sync with the team and tactics. If we are to continue with the 4-3-1-2, which I assume we will, the Bosnian will have every chance to bed in more meaningfully and potently. His talent is never in question and even when he is drifting in and out of games, his top notch technique comes to bear when it matters. I just seek more from one of the most naturally gifted players in the squad.
We were missing Benatia, Bonucci, Sandro, Lemina, Alves and Evra, yet still able to deploy a side more than a match for a well organised, confident and determined Bologna. This is the major positive to take from the game. Other than the return of Asamoah, Barzagli and especially Dybala, for all three of them could yet play a prominent role in our quest for glory on several fronts.
If we can continue this decent form through January and February, recover more players and slowly introduce Pjaca into proceedings, our future feels and looks ever so bright and gilded.
A pleasing start to 2017, with our 26th home victory on the trot breaking the top flight record.
I can't help but grumble when I accept that this wondrous winning streak has come at the cost of 9 goals conceded! Such is the success and dominance I have become accustomed to as first Conte, then Allegri, with plenty of cunning assistance from Beppe and Paratici, have dragged our beloved Juve from fallen giants, back to the upper echelons of continental football.
The beauty of this current Juve side is that the potential to improve is vast.
Prior to Christmas our form was haphazard, often abject, which was almost solely due to injuries. Despite these constant demands to chop and change personnel and tactics to accomodate the same, we have fared well in Europe, and achieved a healthy lead domestically. Allegri deserves more credit for this feat than he receives, and yet his real test will come when a close to full squad becomes available. We have superb strength in every position on the field. World class talent aligned with industrious determination and belief. The only question which remains is…If Lady Luck offers the opportunity, can Allegri conjure a historic treble'? We have the talent. It is now up to Max.
Forza Juve
TGP
Follow me on Twitter here.