Fresh from a long overdue escape from the citadel, where I stayed in a renovated shack on the side of a valley, found the frogs and kangaroos and a roaring open fire for company, and steamed in an bath on the verandah from whence I could see nothing but the wilderness in every direction as the Sun shone, soft icy rain floated down upon the only part of my body above the water line (my damn knees) and gale force winds caused the trees to shudder, the roos to seek cover, and yet a rainbow appeared…Indeed much of me remains in that idyllic refuge, and yet now returned to not reality, but merely more familiar surrounds I must steel myself to cough up a brief report of my visit to the fabled MCG last weekend, before the memories fragment and are lost in the abyss.
Despite finding the announced traveling squad even more woeful than I had assumed, I retained hope of seeing a fair selection of the first team. Some of which I did, at least during the warm-up…
The stadium was not even close to a quarter full, and I am loathe to peek at the recorded figure for it may well prove one of the lowest of all time in terms of Juve's preseason routine visiting strange and foreign climes. Despite the excitement of feeling so close to the players, I couldn't help but feel rather short changed. Which was at least partially assuaged when the starting XI were announced and finally took to their positions.
Neto
Lirola Rugani Marrone Severin Sandro
Lemina Hernanes Asamoah
Dybala Cerri
The game began at a slothful pace, at least for every Juve player except Dybala, who instantly looked a different species to not just the opponents, but also his own teammates. Soon enough Sandro began to show himself and looked ever more lively as he pranced, teased, beat his man and produced a swathe of dangerous crosses. I counted 7 chances created by Juve, 1 from the opponents, in the first half, then was as dismayed as amused to find my comrade who was in attendance supporting the home side counting crosses as chances! Indeed that was how dire the creativity levels of Victory proved during the first 45.
There were flurries of quality, all of which involved Dybala, mostly dovetailing with Sandro, though Asamoah and Cerri looked useful. Pol Lirola gave a solid showing on the right flank, though his endeavour was overshadowed by the spritely footwork of the brazilian on the left. I was also impressed with Severin who kept things simple and did not look out of place. Lemina must receive a mention for he was nothing short of appalling. His shooting was definitely worse than my own, his running lopsided, passing barely adequate. With three gilt edged chances to test the keeper all terribly fumbled, he finally produced one moment of quality with a trademark outside of the right boot cross field pass. Other than which…he seemed the worst player on the field. Yet to give him something to work with, I suppose it is worth adding that he was consistently finding himself in good positions between the midfield and attack. It is what he made of those positions which disgusted me.
The break saw the expected swathe of substitutions, which left our on-field side, other than Neto until the 65th minute, not featuring a single member of our first team squad from last year or from the same I expect of this coming season. Instead we were forced to indulge the youngsters and a couple of senior players presently in limbo, waiting to find their next destination away from Piedmont.
By the time Blanco scored his wonderful 40 yarder, lobbing the keeper from near the half way line, I had moved to sit by my comrade and her understandably uninterested husband, close to what the Australians call 'the active zone'. Which is appropriate, for these were a small phalanx of 'hardcore' singalong types, spouting nursery rhymes and raucous rounds of 'for hes a jolly good fellow'. Yet back to the goal…which was a brief but wondrous moment in an otherwise insipid affair.
https://www.youtube.com/watch?v=bXlvCBSsu6g
The burly centre half will remember the goal for the rest of his days, though who can say, perhaps its the start of a glittering career. I would like to believe so. The primavera stopper will soon be loaned elsewhere to gain valuable experience at senior level. Hopefully to a half decent Serie B side.
As to be expected from a makeshift XI of kids and unwanted senior players, the game became much more level, and it came as no surprise, just a damn bother, to concede late on, with even the Victory supporters eager to call it a day and head home to drown their despondency in russian fire water. Yet penalties ensued, and Audero may have saved one, then we missed a couple.
Il mio cugino Riccardo enjoyed himself a little more than me!
Like many others I assume, I will be writing to ask for a refund on my ticket, for whilst I paid $160AU for a decent seat, there were thousands of others who were given free entry, in an attempt to make up the numbers. The value of such a thing is beyond me, for whilst I see – not for the first time – my cousin meeting the players last night; to have the squad travel thousands of miles to play meaningless games, to half empty stadiums, with barely any of the first XI featuring is surely too intrusive into the summer training routine to cause more joy than aggravation. Indeed, I left the stadium feeling rather hollow, yet will offer a brief outline of the positives –
Dybala is picking up exactly where he left off last term. His pace, trickery and roaming was outstanding throughout his time on the field. Also looking equally potent was Alex Sandro, who I suspect will usurp Evra this coming campaign.
Pol Lirola was the pick of the young guns on show…
Of the youngsters, I was keen on Cerri, who worked well with Dybala, making good use of his towering physique and showing intelligent touches to put other players in on goal. Lirola was a solid as I had assumed, and looks ready for senior football. Of the others…Marrone did little to impress. Severin was comfortable. Parodi and Coccolo nowhere near developed enough physically to mix with the big boys. Baby Nedved aka Macek, too lightweight, Kastanos invisible. Padovan and Rosseti seem capable and maturing well enough. And finally…Audero is far smaller than I had hoped!
I see we are already 2-0 up against Spurs, and will peek at a live stream, half-heartedly though, for these matches are about gaining fitness, and avoiding injury for the many, and for the rest, putting themselves in the shop window or trying to out-wrestle the executioners arms of Beppe who are keen on moving them on.
A brief mention of the mercato seems in order…
I have come to assume that the Higuain move could well be seen as a serious purchase for this Summer and next in turn. As the fee can be paid in two installments. Which makes it easier to swallow as what the devil else will we need next year? We will have only Barzagli, Buffon and perhaps Lichsteiner, nearing the end of their tenure, and with Lirola growing at a startling rate, we may have a ready made replacement on the right. At the back, by then, perhaps young Romagna will be ready to become part of the squad, which alongside Benatia, negates the need to purchase a new CB. Finally I retain hope of Leali coming good or of Gianluigi maintaining form until he retires at 40! I can now see no obvious areas to improve.
I do not believe anything of the stories suggesting we are trying to persuade Pogba to stay. Not a damn jot. We have never stooped to place player before club and why the devil should we do so with Pogba? Such a story may suit some to believe, yet it makes us seem of a small club mentality. Evidently, he wants to leave. And so we will sell him for a price we consider proper, or he can stay in the squad. The club are – as far as I am deducing – moving to avoid becoming enslaved to the demands of our good friend Raiola (God bless his dear little heart!…Which is a piece of coal) and Paul's suitors. We hold all the cards…Pay the price or spin your yarns to the media and leave us to concentrate on mounting a serious challenge for the champions league and a 6th straight scudetto.
We may well be speculating to some degree, in order to accumulate, yet our sponsorship deals from Adidas (20m) and Jeep (17m) alongside the Serie A TV money for 16/17 campaign (120m+) obviously help and we are likely assuming a decent run in the champions league for another 20-30m+ for the coffers. We have been in an increasingly positive financial state since Andrea Agnelli appeared on the throne, flanked by Beppe and Fabio…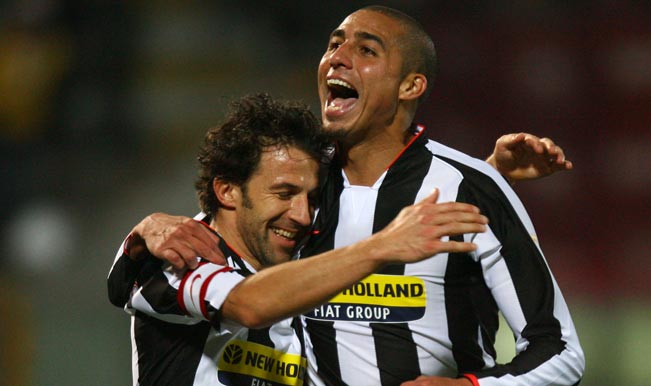 The one area of the squad where we were anything less than classy was the centre forward position; namely a goal machine. Which we have not found in our ranks since the departure of Trezeguet in 2010. There are seldom few top notch, proven in Serie A and beyond natural born goal-scorers we could purchase. We have procured one of the world's best.
I do not like the price but I find the fee for Pogba equally lunatic. If we are being as honest with ourselves as we must, we will accept that the price was inflated to such a degree as a deterrent to ward of would be covetous glares. If we can talk of a more fair price, I would have suggested 50-70m. Yet who cares eh? We have Higuain from Napoli as well as Pjanic from Roma. How kind of our two major domestic rivals, at least from a sporting perspective.
In essence, I believe we are strengthened, significantly, by the arrival of the Argentine. He is a huge step up on Mandzukic and Zaza, our other centre-forwards. He has a colourful wealth of experience and is in the peak of his career. A different player to his Madrid days, now more wily, more rounded and alongside the other signings we have made, I salute the club for they have done all that is possible to strengthen the side year upon year, which deserves our applause alongside our support.
It is also worth noting that Higuain was assuredly not short of suitors. Many of whom could have paid far more in wages. Clearly he sees Juve as a move to an elite club. Where he can chase glory, not solely gold.
Imagine El Pipita forming a partnership with La Joya for both club and country! Could be a match made in heaven or even Hades!…Regardless of international matters, the potential for Pjanic, Sandro, Dybala and Alves to have a world class forward to aim for is mouth watering.
I still expect players to be sold – definitely one of Mandzukic and Zaza – and perhaps Barbosa to appear alongside another central midfielder…other than which our work is done. We enter the new season with greater talent, strength, experience and hope.
Forza Juve