A brief overview of international endeavor of our youth sector…
Allessandro Busti,18, made his international debut for the senior Canada side in their recent 5-0 drubbing of Domenican Republic in the nations league Concacaff edition. Busti was born in Canada, and yet moved to Italy before he turned 1. He has been with the juve youth sector since he was 10 years old and is now representing the club at U23 level with the Juve B team. He does get the chance to sometimes train with the seniors…
"It was so fast. [Cristiano] Ronaldo and [Leonardo] Bonucci, they're strong. Sometimes my shoulders ache after I save the ball," Busti joked.

And on Buffon…

"He gave me some advice. … I'm impressed by Buffon because he's 40 and he's amazing," Busti said.
Another member of the Juve B side, attacking midfielder Grigoris Kastanos (20) continues to blossom in his senior Cyprus international career, recently making his 15th and 16th appearances, picking up a goal in the 1-2 reverse to Bulgaria in the Nations League.
https://www.youtube.com/watch?v=YPrLYmckEqo
U21
Bioty Kean scored his first goal for the Italy U21 side in the 2-0 win over Tunisia. Favilli and Orsolini also featured. As did Audero, who is faring impressively on his maiden Serie A campaign on loan to Sampdoria.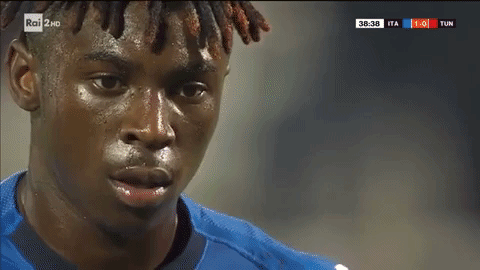 I have kept a keen eye on the young stop stopper and he looks promising.
U20
Juve B side centre-back Gianmaria Zanandrea represented Italy U20 with their recent outings in the 8 nations tournament. And his team mate in defence in black and white Mattias Andersson has been playing for the Sweden U20s.
Increasingly useful for the Juve primavera side, Christian Makoun, CB, has been part of the Venezuala U20 squad in recent games.
U19
Portanova, Fagioli and Petrelli all involved with the Italy U19 squad. Paolo Gozzi Iweru also now part of the same squad. Whilst Nikolai Baden Frederiksen is representing the Denmark U19 side.
I will leave it there, though note that we have plenty of others making similar progress at U18 and below level.
Other than which…
The Juve B side is slowly gaining some consistency, and yesterday found a convincing 3-1 victory over high flying Arezzo. Pereria, Bunino and Muratore with the goals. Which places the side presently –
20 year old Brazilian playmaker Matheus Pereira is enjoying a splendid campaign, with 4 goals and 2 assist from his 7 games thus far.
Captaining the side was recent signing on a free, Lorenzo Del Prete. The 32 year old defender bringing some much needed experience to temper the youthful exuberance of the kids. Never played in the top flight but a very seasoned, 228 games, Serie B campaigner. An astute signing.
Keep an eye on these two…
https://www.youtube.com/watch?v=Wc4Afr4iaxM