Player Ratings
Buffon – Largely untested, as is often the case, yet could do nothing with the penalty conceded and made a solid save from close range when called upon. 6.5
Barzagli – Horrid, and deeply worrying to see him prostrate on the field. Yet it turns out he has dislocated his shoulder, so no damage to anything more serious. Such is my love for the bearded wonder that my unease was rooted solely in his well being, not how his absence will assuredly affect our fortunes as a club. Many things are far more important than football. N/A
Benatia – Yet to impress me, but he has been in and out of the team, in and out of the medical ward. He appears potentially resolute, and forceful in the challenge. 6
Bonucci – A subdued appearance which may well have been for the best, given his injury against Lyon. We saw little of his long passing, nor courageous leading of the line. I just hope he came through the test unscathed. 6
Lichsteiner – This was a showing of a player who has rarely featured; his touch was poor, his passing lacking accuracy, yet thankfully his defensive zeal offered some value. Stephan is a player who builds up steam, and he has not had the chance to do so this season. At best, he was average, yet by more cynical measures, he was poor. 5
Sandro – Played some good football, yet lacked options and support. He has appeared less confident of late, in terms of taking players on, yet in his defence, he often has not one but two defenders to contend with. 6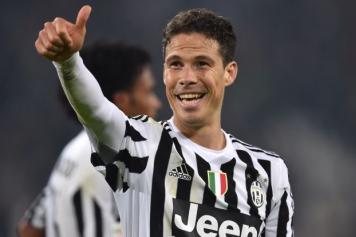 Hernanes – I won't go as far as to call his performance superb, but his effort and eagerness deserve praise. He was constantly involved, his passing was generally decent and I am happy to see him selected in front of the defence ahead of Lemina, for regardless of his output, his head never drops and he always seeks the ball. 7
Sturaro – Still finding his rhythm as a very mixed showing confirmed. Should have scored late on, was constantly trying to make something happen and always makes his presence felt in both the defensive and offensive phase. He can and will be better than this. 5.5
Cuadrado – Lucky not to be sent off for two wretched challenges. Set up a goal with a good pass to Mandzukic and then took on three players before awfully fluffing his lines with the goal gaping at his mercy. He does not change. Although we have had two decent games out of him of late, and he did provide an assist. His determination can never be faulted yet his haphazard composure is the most constant theme of his game. 6
Pjanic – Rarely seen throughout the game, yet produced a wonderful free kick for the winner, and forced another fine save from a late set piece. We are carrying the Bosnian, which is more often than not akin to playing with 10. Despite his gorgeous goal, he was largely uninvolved, absent for lengthy periods, which can only be fixed by a break, or through playing him behind the front two. If he hadn't scored I would be giving him a 4, but…he scored the winner and so…6.
Mandzukic – Fought hard and I was happy to see him get the goal. Gave his all for the cause, should really have had at least another goal, yet I cannot wait for Dybala to return for Mario is a battering ram, with zero flair in a role where we desperately need some invention. 7
Higuain – Forged several great chances, and should have had a penalty. His work rate is immense, and yet he is lacking decent service and supprt in the final third when he finds himself in promising positions. Perhaps it is fair to assert that his form has dipped, yet so has the form of the team as a whole since Dybala was injured. 6
Chievo worked damn hard. And whilst a little fortunate, were at least determined enough to find the equaliser. Yet truth be told, as it always must, we could and should have run out winners with a far more handsome scoreline. For the home side created 3 decent chances, to our 11. That profligacy may become a concern, but solely if we face the same difficulties with a stronger squad.
We were missing Dybala ( our most creative offensive player), Chiellini (our most gladiatorial of defenders), lost Barzagli (our most experienced back line, ultra composed stopper) and with Marchisio rested, the line-up was hotchpotch, clearly chosen to allow others to rest and assume we had enough to get the result. On this assumption, Allegri was correct. For whilst it wasn't pretty, we were rather unlucky to win by just the one goal, for on another day it would have been 1-3 or 1-4 with no justified complaints from the home side.
Few risks were run, we yet again won a game courtesy of moments of individual class rather than concerted team pressure and delightful team work. And we find ourselves no closer to any semblance of cohesion and form and momentum. Yet we do find ourselves 3 points closer to a 6th straight scudetto.
The only obvious and consistent bother is Pjanic. He appeared to be moving towards playing a pivotal role early doors this term, yet has since gone off the boil. We cannot continue to carry him as a luxury set piece taker, for as classy as he is in such a role, as a midfielder he needs to give more during open play. The Bosnian has yet to prove good value for the money spent and remains a shadow of his Roman guise.
It is impossible to deliberate deeply over our progress this season when we continue to suffer wretched injuries. All Allegri can do in such circumstances is to focus on results. Which have been good despite the absence of key players since the start of the campaign. Not just the team but the system appears to change game upon game, which gives players a double headache in terms of seeking form. This is very much reflected in our performances, for we create more than our opponents in close to every outing. When we take just 1 or 2 more of these chances, the scoreline appears far more flattering, yet the actual progress of the team, can at best be measured in points rather than what we see on the field. I would rather see us top of the table and in a healthy position in our champions league group and playing poorly, than playing well and off the pace at home and in Europe. I believe that is the choice we face presently. Try get the best out of what we have available in order to play good football or maintain a steady challenge on all fronts, sacrificing entertainment for progress made through attrition rather than cohesion.
It was a hard earned 3 points, the scoreline could have been more emphatic and I can but repeat that better things are to come…
forza juve
TGP