Match Analysis
Sassuolo, even absent of Berardi and Defrel, were always going to provide stern opposition. They are a carefully and successfully run club, with a strong focus on youth and maintaining an overwhelmingly Italian nature to their side. Di Francesco has overseen their development into a team deservedly challenging for a top six position through steering the ship towards an entertaining blend of attacking, fluid and intelligent football.
Other than the brilliantly created chance for Dybala within 45 seconds of the start, the first half was quite an even affair. We were in control, yet conceded a half chance or two before the typically inconsistent Cuadrado linked up perfectly with Dybala who produced a moment of breath-taking genius to score what proved the winner.
Admittedly we ran a few risks with the score at 1-0, yet Buffon stood firm with the two shots which could have troubled him, and our opponents were afforded perhaps three decent chances for the entirety of the match. The second half was fairly open, yet it was apparent that we were intent on dominating possession, and probing for an opening whilst ensuring we remained solid at the back.
Sansone caused a problem sporadically, Duncan scuffed a shot thankfully wide when found free in the box, other than which, our makeshift defence, with Rugani operating in the Chellini role at LCB, proved robust and tenacious enough to hold firm.
Marchisio shone in midfield, kept the ball moving in both defensive and attacking phases, yet Khedira and Asamoah were disappointing. Both require games to gain match sharpness, and we must accept that they must toil and falter before we see their very best. The Ghanaian especially was off the pace, until the latter stages. As for the German…he is great when finding the ball, and made some useful jaunts forward, yet is often absent for large swathes of the game, which I do not like to see of any midfielder. Is this fitness? Or something else?
Up top Dybala was superb, well marshalled, yet found two great opportunities, and took one beautifully. Yet it was his partner, Big Mario, who truly impressed, with his hard running, never say die attitude, assistance in defence and berserker determination. He ended more attacks of our opponents than any other in our ranks.
Returning to the rearguard…Leo was indomitable, Barzagli has regained his sharpness and I felt Rugani did well enough in an unfamiliar role. The youngster made no errors, stuck to his duties and was growing in confidence as the game wore on. He has come to the club with such promise that I feel that many assume he will step into the side and be immense in every tackle, every pass, every moment, yet he is 21 years old, working his way through his second season in the top flight and has made a major step up in terms of responsibilities and expectations after moving from Empoli. He is facing three of the finest defenders on the planet – all top ten players in their respective roles on a global stage – and must continue to learn from them, make the most of any minutes he is afforded, keep his head down and hope to get through this season unscathed psychologically by any glaring mistakes. So far, so good on such measures.
Great to see Sandro, as always, for he offers so much going forward and appears able to recover in timely fashion when we lose possession to make up the numbers in defence. However, it must be noted that he is far more offensively minded than Evra, which made Rugani's job all the more tricky.
I could nitpick and add concern of our inability to create, to find that second goal which would have put the game to bed long before the final whistle. Yet I must take a wider view of proceedings. We have our toughest game of the season to date in a few days time. Yes yes! Sassuolo are a solid side, who seem to perform at their best against the top sides. And the league is by no means sewn up, far from it. The aim was to win, keep a clean sheet, avoid any further injuries and offer both a rest to several key players before the Munchen tie and a chance for others to work on their match finesse. On every one of those scores, we succeeded. I raise my glass of russian fire water to Allegri and doff my virtual hat.
Flash-flood observations
Morata needs to work harder if he is to forge a path into the first XI.
The contrast between Morata and the two starting strikers, in terms of work rate and focus was stark. For both Dybala and Mandzukic are constantly seeking the ball, chasing the ball or hunting space near the ball as well as assisting in midfield and in Mario's case, also defence. Whereas the Spaniard waits for the ball, has zero interest in any semblance of defensive duties, has only goals and the path to finding them in his mind. Which is a double edged sword. For strikers need to be selfish, yet its also welcome and required to see them helping out with the dirty work.
Cuadrado was brilliant for the goal, other than which very average. His passing, shooting and crossing was too often abject. The jury remains out on how potent he can be against top class opposition. Clearly his pace and acceleration can create goals against lesser teams, but considering the singular nature of his attacking prowess, I am of the opinion that classy opposing managers and defenders will quite easily nullify his quick feet. He has nowhere near the dribbling ability of Pogba or Dybala, and Sandro appears consistently more valuable in the wider scope of the wing-back role. As others have mentioned and with which I agree, Cuadrado can be a good weapon, if deployed correctly in order to make best use of his strengths. If Allegri was of a different opinion, he would have been rested for this game. The conclusion must be that Il Mister has decided that we are more solid with Lichsteiner in that role.
I was mightily impressed with Acerbi. In the possible scenario of Conte demanding Chelsea sign Bonucci, we could do far worse than investing in the 28 year old. For he is not just formidable in defence, capable on the ball; he offers intelligent runs forward to support the attack. His partner at the back, Luca Antei, was also in fine fettle, and at 23, he has plenty of time to further mature.
Only a handful of minutes in the derby with cross town rivals Torino is now required for Buffon to break Rossi's clean sheet minutes record. I am surprised it has taken this long!
Man of the Match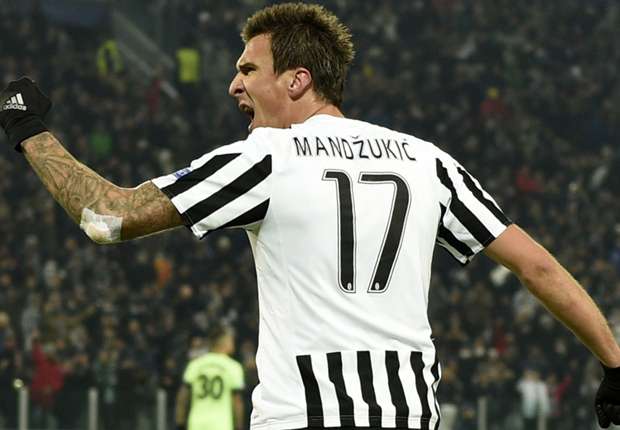 I have mentioned, albeit intermittently, the worrisome absence of players with the zeal of Nedved, Torricelli, Di Livio and Nedved. Players who refuse to allow a second to pass to catch breath. Fight for every ball, every blade of grass is there to be won, and simply never stop, until they are hauled off to the shower, awarded a red card or the ref signals the end of the warfare. Lichsteiner has hints of this, yet his petulance lessens its value. Mandzukic however, has this special and rare kind of zeal in spades. He was ubiquitous, and is clearly approaching peak fitness. I lost count of how many times I found him tracking opponents, making superb challenges, breaking up any effort to construct counter-attacks. He also offered the Sassuolo defence not a moment of peace. His work-rate is under-appreciated by many, yet is much of the reason as to why Morata is spending so much time on the bench. The ability of such warriors of ferocious grit can never be under-estimated, though is often lost in the analysis of those who focus on statistics. His swashbuckling menace opens avenues for other players to exploit as well as instilling fear into his foes when going into any 50/50! Outstanding performance.
Player Ratings
Buffon –
Two decent saves, distribution was fine, got away with a handball inches outside the box, other than which, plane sailing towards breaking the record for total minutes of consecutive clean sheets. 6.5
Big Leo –
Much brighter in the first half than second. Played several intelligent passes, defended brutally and smartly. Yet rarely, if at all, moved forward to support the attack. 6.5
Barzagli –
Always a busy man when Cuadrado is playing. Showed remarkable pace on occasion for a man of his station in life, kept things strong and simple and looks to have regained sharpness, just in time for Munich. 7
Rugani –
Still learning his trade, and deployed in a role he has no experience in performing, made more tricky by Sandro's adventurous nature and the absence of Pogba. His covering was noteworthy, as was his physicality. Played his part in the clean sheet, and grew in confidence as Sassuolo tired late on. 7
Marchisio –
Battled damn hard. Linked the play, and recycled the ball always astutely. I was a little worried when he went down injured yet he recovered to continue screening the defence and seeking out offensive forages. 7
Asamoah –
After so many months out injured, it is to be expected that the Ghanian will be rusty. Several poor passes, let down by slothful control, yet he battled hard. Clearly the stamina is there and only games will return him to his best. It is marvellous to have him finally fit and he will assuredly prove a wonderful addition to our weaponry for the tail-end of a season with so much still to play for. 6
Khedira –
Drifted in and out the game. His technical ability on the ball is top drawer, as is his muscle, for his physical stature makes him very hard indeed to knock off the ball when in full flight. Yet his lack of pace can be an issue. I would like to see him deployed in the regista role, where I believe his talents could best prosper, as the fulcrum of the side. 6
Sandro –
A constant thorn in the Sassuolo flank. He should really take some time to teach Cuadrado how to cross, and also how to vary the manner in which he takes a man on, for he has far more tricks up his sleeve, and works very well indeed in close, tight quarters. He has yet to have a poor game in our colours, and our future on the left, appears bright and of great potential. 7
Cuadrado –
Misplaced passes, singular efforts one on one, little offered defensively, yet…it was his endeavour, of trying the same trick time and time again, which led to the goal, in which he played a major role. I am yet to be convinced of his value as a first XI starter, yet am thankful to have him in the squad to help us earn victories against problematic sides a few strides short of the upper echelons. 7
Dybala –
https://www.youtube.com/watch?v=LNKj9mgI0Mc&ebc=ANyPxKrbNRcKt8k9XlxfTjc8rZPPz3cHrbv1asjlYxc_7tiXQbhTMjOssNuwCshSpBQgHQslTqaWMpaJN6u3pjKGDuF54BwXrg
Worked exceptionally hard. Scored a gorgeous goal, which I doubt any keeper would have saved. Had one other opportunity early doors. Other than which, got stuck in, delved deep to fight for the ball and link the play. He has come on in leaps and bounds in terms of his ability to scrap. And continues to prove sublime anywhere near goal with the ball at his left boot. 16 goals and 8 assists in his first season at an elite club, with plenty of games left to to play is an outstanding start to his Juve career. Destined for greatness. 8
Mandzukic –
Barely a half chance for a strike on goal befell the burly front man, yet his contribution to the victory was worthy of a Spartan. Tackling, hustling, chasing down every lost cause, Mario has regained his rhythm, and is a brutal siege machine. Worked harder than any other for this victory. 8.5
SUBS
Pogba –
Found one opportunity to strike on goal, other than which was not much involved. Brought on just to maintain his sharpness and improve our control in possession. 6
Morata –
Very little time was afforded the Spaniard, yet he created one chance at the near post, other than which was nondescript. It was telling that Allegri brought on Lichsteiner when realising that Dybala's absence had not been balanced out by the move to involve Morata…5
Lichsteiner – N/A
Allegri –
Another vital 3 points, solid performance, no new injuries, nourishment for Asamoah and Khedira on their journey towards top gear. It would be wrong to say that we rode our luck, yet equally misleading to suggest this was a walk in the park, for Sassuolo posed problems. No joy can come from pondering the ifs and buts when this game was well managed and achieved everything we set out to accomplish. 7