Player Ratings
Buffon – Could do little about the equaliser, made a solid save in the shoot-out and also kept out a Bacca header from close range. 6.5
Chiellini – Plundered the opener with a strike worthy of an attacker and kept the rearguard organised. Brought the ball forward intelligently and calmly and muscled out most would be foes. Didn't deserve to be on the losing side. 7.5
Rugani – Another solid showing from the youngster, all experience at this level is nourishing and Daniele was resolute and dependable. 6.5
Lichsteiner – Not one of his best, for whilst he kept the right flank secure defensively he offered little of value going forward. 6
Sandro – Was in imperious form, and we were very much in the ascendency until he was forced off injured. The game then changed for the worse. He is becoming integral to our success. 7
Marchisio – Seemed jaded, perhaps we are asking too much of the returning Principino. As he was off the pace, and rarely involved. 6
Sturaro – Muscled and bustled, had a shot saved, took a fair few bruises before injury curtailed his lively involvement. Stefano was constantly involved. As with Sandro's exit, his departure left our left flank horridly exposed. 6.5
Khedira – Found himself in some decent positions, forced a decent save from the keeper yet was absent at the back. However, it is fair to say our woes stemmed singularly down the opposite flank. A tidy, if unspectacular outing for the German. 6
Pjanic – Looked lively during our first half dominance, but faded awfully in the second. I am unsure if its a case of us needing to find him more, or the player needing to seek the ball with more zeal. Regardless of such pondering, we remain yet to see the best of the Bosnian. 5
Mandzukic – He seemed leggy, lethargic, failed to test the keeper, caused little nuisance, and failed to repeat his sterling effort against Roma. Blunt and slow. 5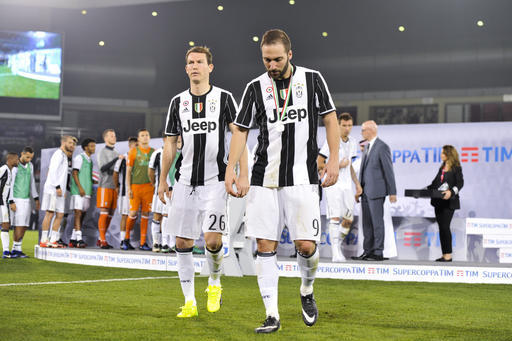 Higuain – Wasted his scant opportunities, but each of them came with plenty of defenders in close attendance. Laboured, but floundered. A regretful first chance gone begging for silverware in black and white. 5.5
Evra – The flow of the game changed completely when the Frenchman entered the fray. He was consistently beaten by Suso, who not only set up the equaliser but ran Evra ragged, creating space to cross as he pleased. This was undoubtedly the worst game of his Juve career, and its tempting to suggest that he has been proven too long in the fang. Yet I hope and will assume it was a one-off. Poor positioning, poor pace, poor passing, poor tackling, Abject and atrocious. 3
Lemina – Had some nice touches but offers virtually nothing defensively. He is never a central midfielder. 5
Dybala – Our game picked up when he appeared, and he came close with a snap shot from outside the box. However, not just his penalty miss, but his gilt edged chance to win the tie in extra time proved pivotal in our defeat. 6
It has been a horrifyingly scorching day here in Melbourne with temperatures stuck around 35C for the main, and the mercury dropping to more comfortable conditions only but an hour or so back, by which time I had turned to the vodka…It is also Christmas Eve, and so kindly forgive the brevity.
We played well and looked comfortably superior to our opponents until Evra came on. Suso, with no Sandro to track, mauled the frenchman, produced countless crosses into the box and turned the tie with his quick thinking and running and decent passing. One game is not enough to condemn a player, but at 35, the clock is certainly ticking for Patrice. It was his replacement of Sandro which turned the result from a dominant Juve victory into a 50/50 battle.
Few clearcut chances were created for both sides and the penalties are always a lottery. This is not a prestigious trophy when we are gunning for a 6th straight scudetto and progression in the champions league. However this piece of silver was there for the winning. We were undone by the injuries to Sandro and Sturaro, and those who came on to replace them did not fare well. Lemina's pretty touches cover for some (not me) his poor positional awareness, yet perhaps I am judging him too harshly for I have long concluded that he is an attacking midfielder, not central, and so to ask him to replace a swashbuckling Sturaro is unfair.
On the balance of play and chances, either side could have shaded it, but neither clearly deserved to win.
The atmosphere in the stadium was eerie and odd. Many empty seats and the native crowd seemed similar to the Australians, as in they did not seem to know when to cheer and when to boo. It seemed like a pantomime audience of school children on occasion, with even a throw in earning a booooooooo!
We were strong for the first half hour, after which, we lost our way, mainly because Evra was wholly unable to deal with Suso. This issue was made worse when Sturaro left, with defenders thereafter having to double up on the winger leaving a tough job in the middle for their comrades to defend.
Other than the first 30 minutes, neither side showed much determination with the game feeling somewhere between a pre season friendly and exhibition match with hints of a Serie A fixture. It was not a great advert for Serie A, for the quality, especially in the final third was generally abysmal. Suso was the finest attacking threat on the field.
It would have been splendid to win, but it is far from the end of the world to have lost on penalties, in what is the lowest of our priorities for the season.
AC played well, and we played poorly after Sandro departed. Still we could and should have won, but lady luck was not smiling upon us.
The players may have switched off after the well earned victory over Roma of late…and who could blame them, for to travel a few thousand km to play in the Middle East just before Christmas for what is hardly a major honour is not quite the perfect preparation. They tried, could have done better, and were beaten in a lottery of penalties. No harm done.
The players now find time to relax, spend time with family and lovers and lick their wounds and their women. High hopes remain for 2017. We have a healthy lead at the top, are recovering key players, may well augment the squad with Witsel. Many reasons to be cheerful and to dream of true glory, not victory in an exhibition match staged in Qatar…
forza juve and Buon Natale
TGP